PlotCraft
One of the things writers, especially those writing fiction, get asked is: "Where do you get all those ideas from?" Well, the thing for most writers I know is not getting the ideas, but keeping them :) There are ideas everywhere - whether it's in a scene from a movie you're watching, a throwaway line on the radio, a book that you've read, two cats fighting on the roof next door or even the monkey which comes over to your house via the powerlines (true story :p). The problem is keeping track of all these ideas, incidents, situations or even that delectable quote which just popped into your mind. That's what PlotCraft is for!
PlotCraft is simply a database for tracking all the ideas you might have. You have complete freedom as to how you categorize your ideas and there are several categorization options for you to easily find any idea at any given time. If that wasn't enough, it also comes with a built-in rich-text editor so that you can add your idea to the database with all sorts of formatting, fonts, colours and even use tables or hyperlinks so as to make sure that your idea gets recorded in all it's glory :)
Features
A complete idea/research management database utility for writers.
You can save ideas for each novel or each type of idea in separate databases or save everything in one database yet find the information quickly due to the comprehensive grouping/categorization features.
The ability to enter rich-text for your ideas so that you can format your ideas the way you want or even include hyperlinks to websites or attach images relevant to the idea.
A treeview-based idea navigation facility so that you can quickly locate an idea based on idea type.
Advanced filtering options to quickly find a specific idea by type, categorization or keyword.
Screenshots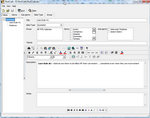 FAQ/Known Issues
There are no known PlotCraft issues at the moment.
Acknowledgements